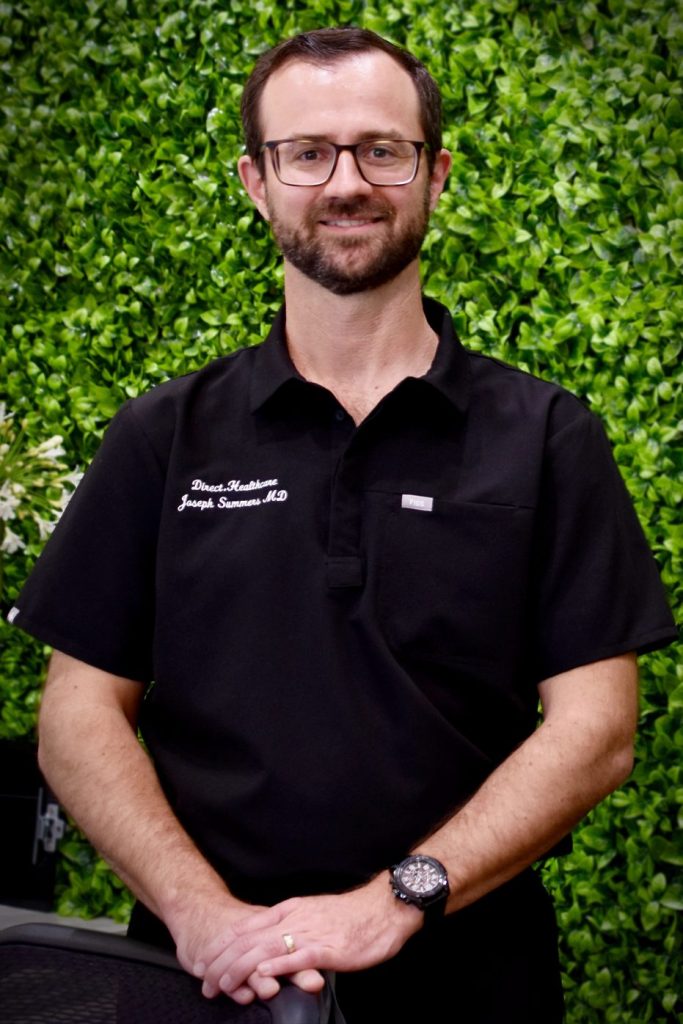 When it comes to education, there's nothing like a doctor who is also an expert in their field. Dr. Joey Summers understands the needs of both patients and practitioners alike; having taken part not only as a doctor but also in multiple teaching roles, including:  
HonorHealth (Scottsdale Healthcare) Family Medicine Residency Program, precepting residents in their outpatient clinic.
University of Arizona College of Medicine, precepting medical students in their first-year clinical experience.
The University of Phoenix, precepting nurse practitioner students in clinical rotations. 
A.T. Still University, Precepting third and fourth-year medical students in outpatient rotations. 
Joseph Summers and his wife are originally from Ohio. He attended medical school at Wright State University, in Dayton, Ohio, and finished his Family Medicine residency at Scottsdale Health Care. He and his wife enjoy the variety of patients that family medicine brings.
He enjoys spending time with his wife and his family of pets and enjoys spending time outdoors, including hunting. In addition, he has recently picked up the game of golf again after a long hiatus.
Education:
Doctor of Medicine | Wright State University Boonshoft School of Medicine
Bachelor of Arts | Cum Laude | Wittenberg University
Faculty Development Fellowship | The University of AZ, Department of Family and Community Medicine
HonorHealth Family Medicine Residency Program 
Hospital Affiliations:
HonorHealth-Osborn
HonorHealth-Shea
Languages Spoken:
English
Professional Board Certifications:
American Board of Family Medicine, certified 2009, re-certified 2019 on longitudinal certification tract
Don't Just Take Our Word For It, Take Theirs!
I have been a patient of Dr. Summers for six years. He a great guy who really knows his stuff. It is amazing how much times he spends with you making sure everything is covered and all your issues are addressed.
Thanks to our proactive, patient-centered approach, our members enjoy lower out-of-pocket costs—and our employers save, too.
We cover your entire healthcare journey from routine care to chronic condition management to urgent care and more.
With same or next-day appointments, you spend less time waiting and more time with your care team.

Direct Healthcare Membership
Find a personal physician that's right for you.
Sign Up Today
480-450-5795
*No registration fee for new or existing patients
**Membership with Direct Healthcare does not constitute health insurance. Read more.

Always there where you need us.